About the Book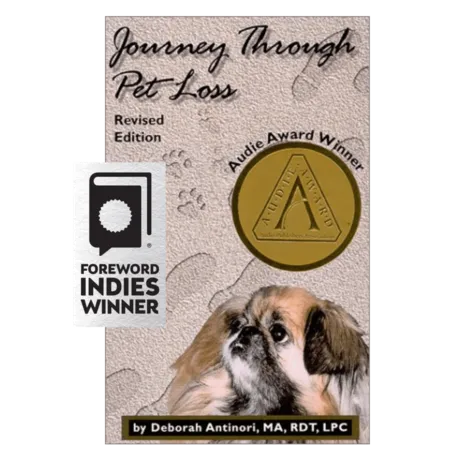 Journey Through Pet Loss is a soulful outreach to those who lose an animal companion through death or other circumstances. Deborah Antinori, MA , has woven a tapestry of personal and therapeutic elements throughout this audiotape creating a balance between helpful suggestions from her professional experience as a therapist and pet loss counselor, and her personal experience as a pet owner.
Reviews for 'Journey Through Pet Loss'
" Journey Through Pet Loss is an insightful, creative, and heartfelt odyssey through the loss of a beloved companion animal. As an experienced drama therapist, Deborah understands the importance of using creativity and imagery to help move grief from the intellectual realm, to the emotional one. Anyone suffering from the loss of a special friend should experience Deborah's unique approach to healing. She provides valuable ideas in a way that feels very personal and meaningful."
- Dana Durrance, MA, Assistant Director Changes: The Support For People and Pets Program CSU Veterinary Teaching Hospital
"This tape series is just wonderful a soothing balm, a healing compress during times of great loss. And for anyone who has ever loved an animal, we know that their leave-taking is a loss beyond compare. So many memories came to my mind as I traveled through Journey Through Pet Loss moments of joy and intimacy between me and my long-gone animal partners. The reverie was pure and nourishing and like Deborah's program flowed gently and lovingly to heal many of the grief wounds I didn't even realize I was still carrying. If you have lost your animal companion and wonder how your heart could ever mend, please, take this loving and unique Journey Through Pet Loss ."
-Susan Chernak McElroy, Author 'Animals as Teacher and Healers'
"All of us are going to lose an animal close to our hearts, and at those times I urge you to listen to Journey Through Pet Loss . It wont replace your animal, but it will validate your feelings of having lost a family member."
- Jeffrey Moussaieff Masson, Author 'When Elephants Weep and Dogs Never Lie About Love'

Click here to read more reviews of ' Journey Through Pet Loss '