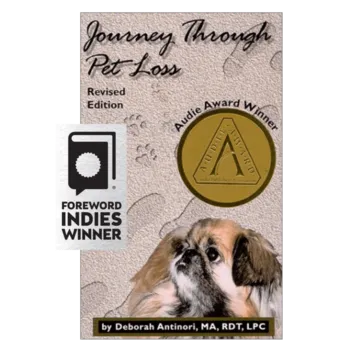 Journey Through Pet Loss

This audiobook features a variety of topics on pet loss including the reasons why one can experience such a deep sense of loss; memorial tributes for animals; the value of reminiscence; issues of illness and death of a pet; euthanasia, burial and cremation issues; grief phases and tasks; complicated mourning; associations to other losses; and other forms of pet loss such as lost pets and animals who must be given away.
Deborah tells her story of the love and loss of her dog of nearly fifteen years, Yoko, whose bright spirit still lives in her heart. Deborah's poetry collection, All of a Sudden , was written at various times throughout the first year without Yoko to help her cope with the void she experienced in Yoko's absence. This poetry is interlaced with the material describing the phases of grief, highlighting in a poignant way the many levels of feeling pet owners may experience when their animal is no longer around. The poetry and music have been extremely popular with audiobook listeners and audience members at public events.
This audiobook provides a psycho-educational, personal and artistic treatment of a subject that affects anyone who owns a pet, since we will most likely outlive our charges. Written for the general public, Journey Through Pet Loss , covers many topics that can benefit mental health professionals, veterinarians and vet support staff. Also appropriate for pet loss counselors with group and individual clients, portions of the audiobook can be used in conjunction with ongoing therapy practices.

Listeners are given a precious opportunity to join in the honoring of one's special friend and the feelings we experience in their absence in this " Journey Through Pet Loss ."

Click here to listen to excerpts from the book.
Find out more: